Women's capes come in many different styles and colors, so there's something for everyone. Whether you're looking for a classic black cape or a colorful floral design, we've got you covered.
Whether you're looking for a classic black cape or a colorful floral design, we've got you covered.
Women's Cape are a timeless fashion staple that never goes out of style.
They're perfect for any occasion, whether you're going to work, running errands, or just hanging out with friends.
And now that we are not too cold in our Greece, capes are an ideal choice to be elegant and without heavy coats.
The Long Sleeved Women's Cape
If you're looking for a versatile piece that will go well with everything in your closet, consider adding a long sleeved cape to your collection. These capes come in a variety of styles, colors, and fabrics, so there's sure to be one that fits your personal style.
The Short Sleeved Women's Cape
Capes are perfect for any occasion, whether you're going out for dinner or attending a formal event. They add a touch of sophistication to your outfit without being too dressy.
You'll find short sleeved capes in a wide range of materials, such as silk, satin, velvet, chiffon, and more.
The women's cape tied in front
A rich look and sweet shape, this instantly warming cape livens up any outfit, finishing off your look with a simple tie.
This cape is one of the most versatile styles. Rich fabrics in various designs with a tie at the front.
This type of cape is ideal for those who want a warm hug.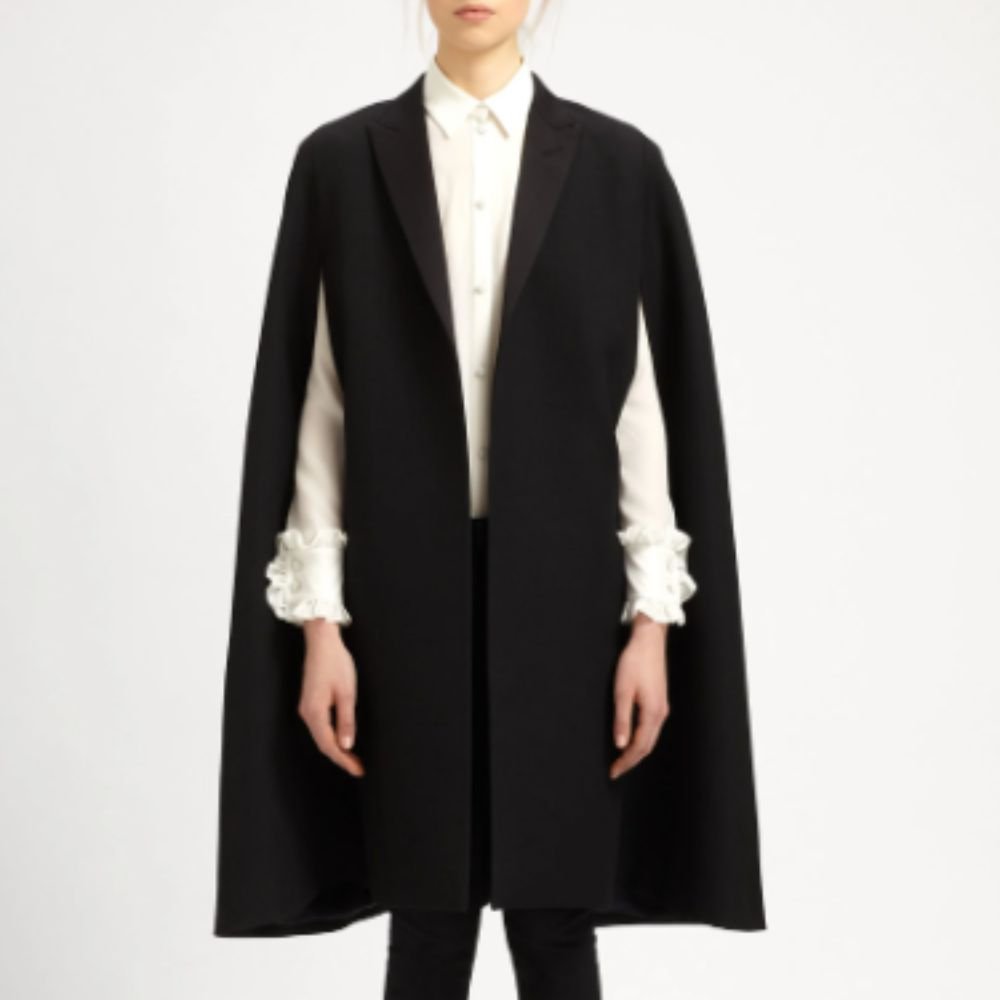 The tuxedo cape is another popular choice among women. Έχει μια κλασική εμφάνιση που προσθέτει κομψότητα σε κάθε ντύσιμο. It has a classic look that will add sophistication to any outfit.
Saint Laurent puts a contemporary twist on tailoring codes with the draped silhouette of this black tuxedo cape, cut from wool-blend felt accented with satin notch lapels.
Choose the royal favorite style for a formal look and give it a go instead of your usual blazer. Trust us and you'll make a lot of heads turn your way.
Sewing pattern, Surpise !!
It's time to reveal the women's cape and we'll give you pattern instructions to make it on your own body type and in your own fabric of choice.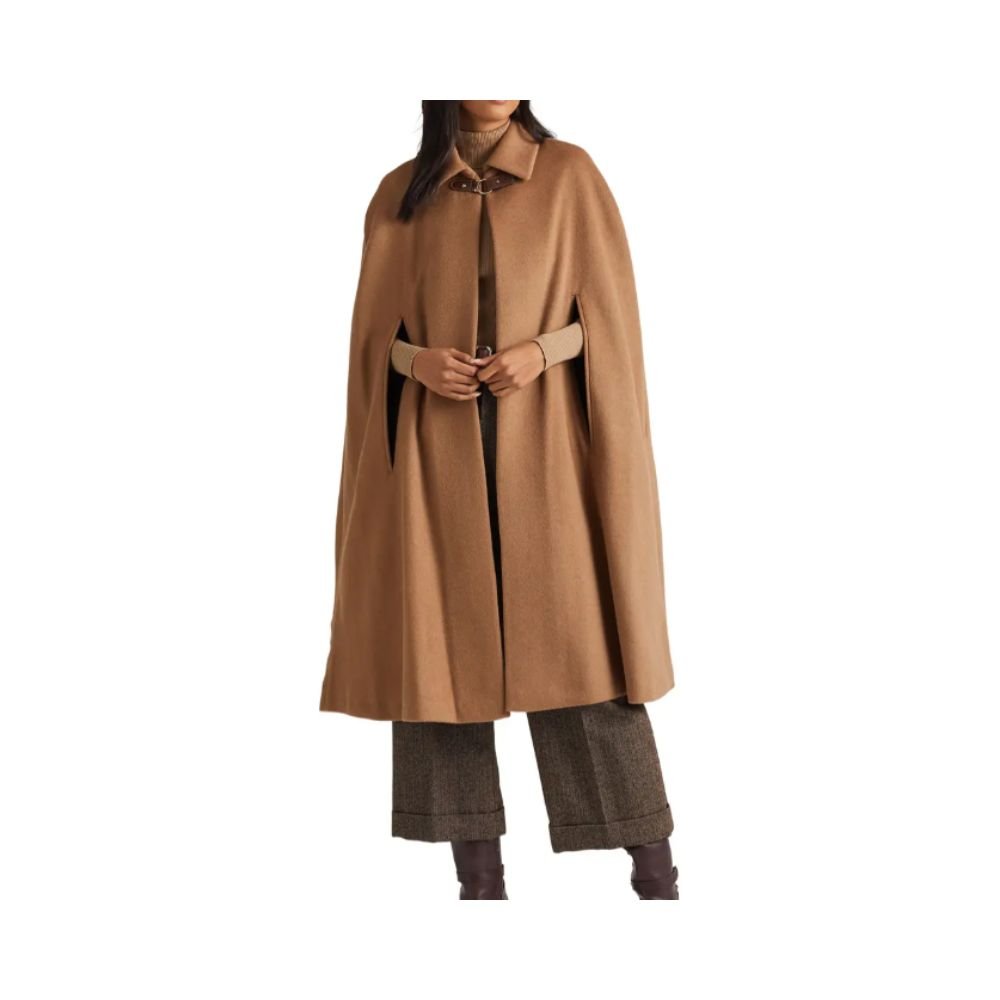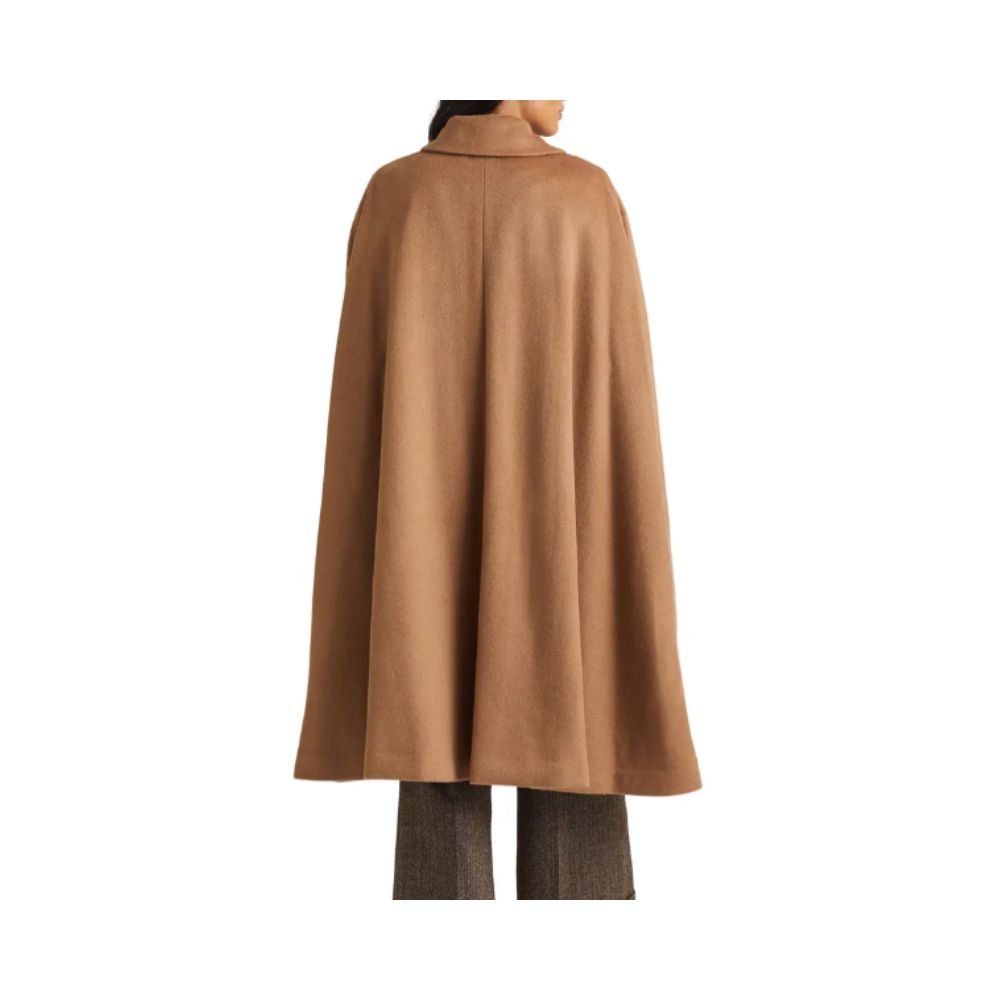 An incredibly stylish women's cape that will be an important piece in your wardrobe. Let's make it!
We will need a large table.
Join 4 rice papers (70 x 100) with transparent tape or white thin paper tape.
Pencils ΗΒ ή Β, 2Β
White eraser to correct our lines.
Measuring tape.
Triangle, curvilinear, ruler (1m).
Pair of scissors
First we make a basic sewing pattern for a wide dress (sack). Only the front part.
We use our own basic pattern, the front piece without the darts.
We lower 3 cm of the armpit and redraw the curve of the armpit.
We open the hips 5 cm.
In the center front we draw the length that our cape will have.
Join points A – B and go up 1 cm. to point B and we go down 1 cm. at the other end of the hem. We connect the two points.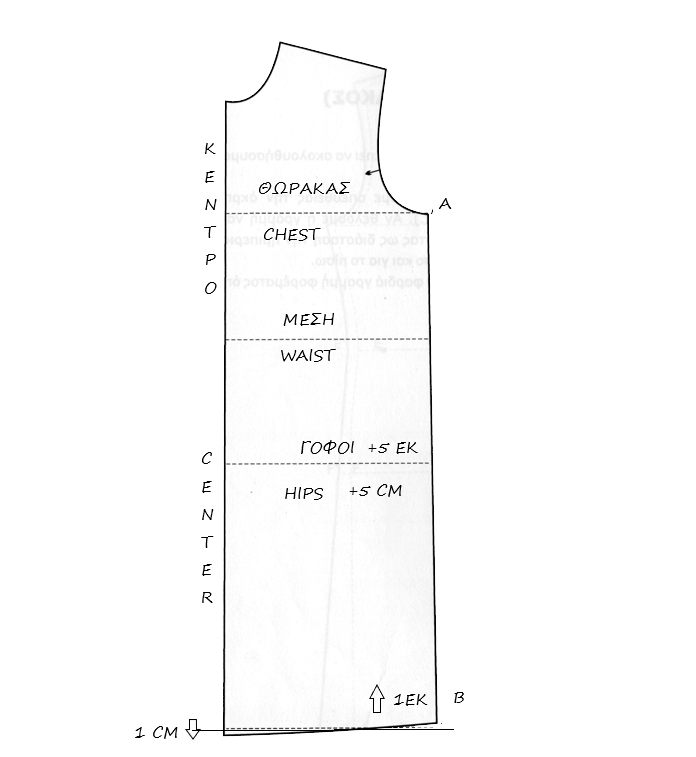 And now we go to complete our women's cape.
On the basic pattern of the dress, mark at 9 cm. from the armpit the curve of the shoulder.
Open the side of the hem 20 cm.
Round the hem line from the center front to point D. (D is about 5 cm. above the right angle of the hem.
Join points B – D with a straight line.
We go up 1 cm. from the edge of the shoulder and join points E – B with a curved line.
If we want to change the design a little and add buttons, we add a margin from the center front of 5 cm. FF' – GG' Otherwise we skip this step.
To make the back part we go up 1.5 cm. from point E, draw the neckline and then join points E' and B.
We go down 45 cm. from point E and draw the openings that the hand will pass through. Their length should be 17-18 cm.
Their gradient is at will.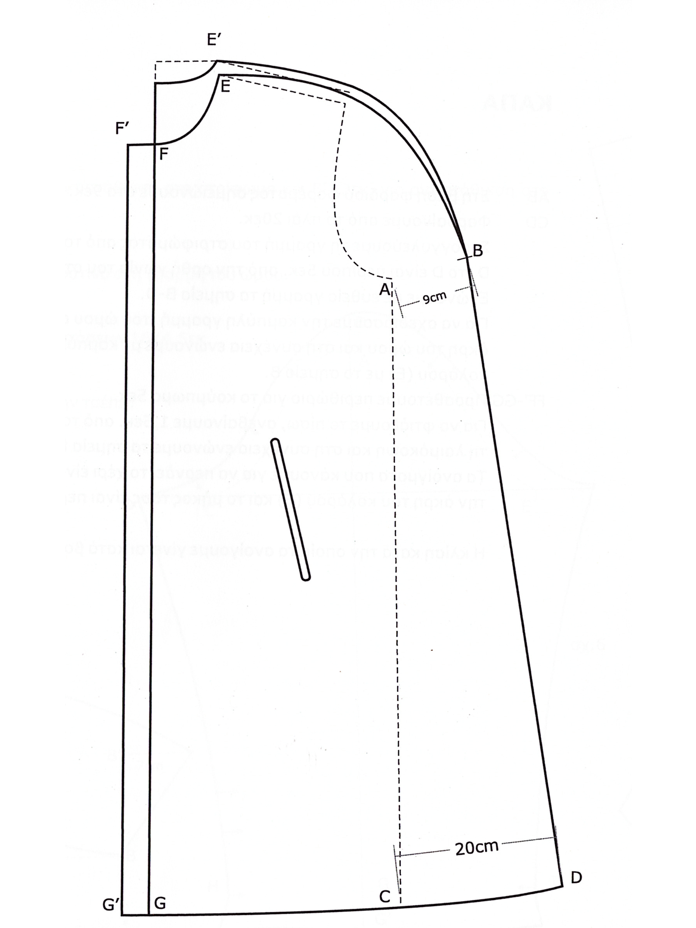 And now that we have the front and back ready, we copy separately onto new rice paper and cut to apply to the fabric.
We don't forget to leave 1 cm seam allowances. around 2 cm. on the hem.
Let's go design the collar too. Get new rice paper and get started.
First we take our tape measure and measure on the design of the cape the neckline, the front and the back separately and the addition of them.
Forward point collar
AB Total neckline dimension + 0.3 cm. air
AC Back neckline dimension + 0.1 cm. air
BC Front neckline dimension +0.2 cm. air
BD Half dimension BC
BB' We go up 2 cm.
DD' Half CD
Connect points B' and D' with a curved line and points C and A with a straight line
B'I We continue on the same slope of the line B'D' for 5 cm. Equal to buttons margin. (If you didn't add margin for buttons, then we close our collar at point B')
AE Back center line, collar height 3cm. This dimension continues at the CF points and along the entire length of the collar.
We make a curve at the point where we close the collar
Lower part of the collar.
AB Overall Neckline Dimension
AC Back neckline dimension
BD Half dimension BC
AE We go down 2 cm.
EE' 0.7 cm.
CC' 2 cm.
DD' 1.7 cm.
Join B-D'-C'E' with a curved line
E'F Collar Height Dimension
FF' 1 cm. Center Back line
CG 6 cm.
D'H 6.3 cm.
BI 8 cm.
BLI Collar edge.
LIHGFF' Outer collar line.
Upper part of the collar: Leave the necessary margin around the collar. 0.5 cm. in the center back and we go up 0.3 cm. on the edge of the collar. 0.3 cm at the edge of the front.
And now that we have all the patterns for the women's cape ready, we are ready to give them to our seamstress to cut and sew the fabric.
Otherwise, if you sew yourself then it will be more economical.
Whichever way you choose, it will definitely be cheaper than buying it new.
And don't forget to leave us comments and photos of your creations.
They help our website and give us strength to move forward.
Share us on Social Media