Mary Katrantzou:
Greek fashion designers.
She was born in Athens in 1983. She lives and works in London.
She began her studies at the "Rhode Island School of design", in the UK. And continued to Central Saint Martins, London. She has been recognized as the Queen of Prints. Mary, Queen of prints! ! !
He started making prints for interiors but then preferred to follow the fashion world. She collaborated with many famous names, among them Sofia Kokosalaki.
Her big career started in 2008 opening the fashion show of Saint Martins graduates. Her first collection was presented at London Fall / Winter 2008 Fashion Week. Since then, her career has taken off.
Its feature is the prints on clothes. In 2008 she presented a collection of dresses that had the theme of oversized jewelry. The dresses depicted jewelry that could not actually be worn due to their weight.
Her work has been featured in the most popular fashion magazines. Today, among others, he collaborates with the house BVLGARI, designing together an amazing collection of bags, jewelry and silk scarves. The series is called "Serpenti Metamorphosis" .
Her latest Spring / Summer 2020 collection was presented at the Temple of Poseidon in Sounio to celebrate the 30th anniversary of the Elpida Foundation, organized by Ms. Marianna Vardinogianni.
Panos Papadopoulos: Beach fashion!
Greek fashion designers.
He was born in Athens in 1958 but immigrated to Sweden due to his political beliefs in the late 1970s. The immigrant businessman founded his own company Panos Emporio in 1986 and was immediately recognized as the King of swimwear in Sweden. For decades to come he would be the most famous swimwear designer in the Nordic countries.
His swimsuits and beachwear are characterized by the high quality materials he uses and how they are designed for everyone, regardless of their style or body type.
Angelos Frentzos: The Greek designer of Pop Stars
Greek fashion designers.
He was born in Athens in 1972.
He studied at the School of Fine Arts in Athens, specializing in "Printing design".
He worked in textile companies creating fabrics for furniture and clothing. Having then met Sofia Kokosalaki (a famous Greek haute couture clothing designer), he created his first clothing collection inspired by the new music era.
In 1999 he graduated from the "Central Saint Martins" in London. And in 2001 he presented his first line of women's clothing at Milan Fashion Week.
He has collaborated with famous artists in the music industry, including Rufus Wainwright and Peaches, Justin Timberlake and Madonna. Liu Wen at the Met Gala in New York in 2017 wore a magic ensemble of the designer.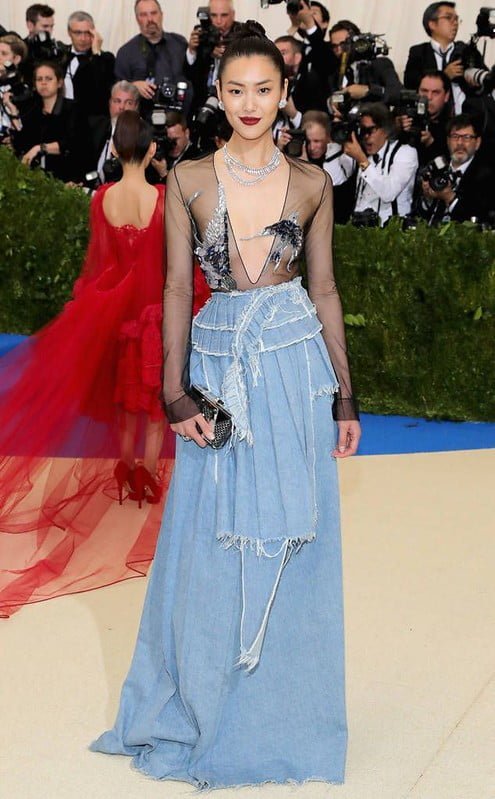 Ioannis Guia:
Greek fashion designers.
The Greek Designer lives and works in Paris and has participated in AXDW ( Athens Xclusive Designers Week ). One of his works has been exhibited at the Louvre. Ioannis is the author of the book "The sexual function of the occidental clothing" and owns a company based in Paris since 1999.
Born in Greece, he began his career in Athens, where he studied history and worked as an independent stylist. He moved to Paris in 1991 and continued his studies in Historical Anthropology. His collections are inspired by his knowledge of history. Uses old-fashioned features mixed with modern elements. That's why she is always looking for innovative fabrics that she can use alongside the classics.
Athena Prokopiou:
Greek fashion designers.
Born in Greece, she grew up in Switzerland and is based in London. A well-traveled girl chasing the sun. As she says about her success: "It shows that there are boho women all over the world who chase the sun like me!"
She studied classical piano and with it he toured all over Switzerland. Later she studied Art History at Christie's in Paris and finally graphic design at St. Martin's of London.
She started with a collection of scarves that immediately joined some of the best boutiques in London. Her success is international and her brand label includes shiny kimonos, boho-chic dresses, pashminas and scarves.
Lydia Voussvouni:
Greek fashion designers.
She was born and raised in Athens in 1988. She studied fashion design at three universities in England and after graduation was awarded for her final collection, by external fashion critics as one of the best collections of graduate students in England and Europe. Her work was exhibited in Berlin.
She has worked in various studios of famous designers, starting with Marios Shcwab and Aquascutum in London and Chloe in Paris. She has also worked for Maison Martin Margiela and Loewe in the retail and commodities sector.
In 2012 she met Dimitra Kolotoura and Mareva Grabovski Mitsotaki, founders of Zeus + Dione. (The latter has now left the Brand). Then she decided to return to Greece and take on the role of designer of the brand. This was a great challenge for her as her role required a lot of research on the roots of Greece as well as specific techniques for creating garments using local materials of high quality.
Silia Dragouni: Celia d
Greek fashion designers.
A special Greek designer who stands out for her unique bohemian wedding dresses. She usually uses silk satin, silk and cotton tulle, vintage lace that she chooses from all over the world.
She runs her own fashion bussines in Psychiko, in Greece.
Silia Dragouni studied fashion design at the Parsons School of Design (Paris) and fine arts at the Chelsea College of Art (London), and has worked for Sonia Rykiel in Paris for almost two years. She returned to Greece and made her own Brand "Celia d". Her creativity is due to her experiences and her travels.
Of course, it is not enough only for wedding dresses, but her creations include kimonos, dresses, kaftans, tops, jackets with bohemian and vintage influences.
Brettos Brettakos:
Greek fashion designers.
Specialist in luxury costumes. Favorite designer of celebrities.
He was born and raised in Piraeus. He initially studied journalism but soon discovered his artistic talent. He studied fashion and costume design in Rome and then went to London, where he attended the famous Royal College of Art, earning an MBA in women's clothing. At his graduation his collection 'Ptihoseis – Ripples' made such an impression on the public and critics that he established himself as one of the youngest 'underground' designers for 2005 on the British fashion scene. in the famous boutiques in Tokyo and London "Sobuki", "Dovestreet market" and "Fusion exclusive gallery".
His successes continue and in 2008 he decided to return to Greece targeting the Greek fashion market with great success. He has dressed Greek and foreign famous singers, actors. Despina Vandi, Elena Paparizou, Beyonce, Jennifer Lopez and Shakira.
According to his critics and clients, the secret of the success of "Vrettos Vrettakos" is that his designs are sexy, bright and very flattering for the body without being provocative and at the same time of high quality.
Vassilis Zoulias:
Greek fashion designers.
He has been in the fashion industry for over 25 years. From a young age he understood his inclination to create fashion and style. He started his career as a fashion editor in magazines, but only expanded his creativity when he founded his own "Brand". His great career developed in Greece. From 2002 onwards he started creating shoes and bags giving his own label "Vassilis Zoulias Old Athens" and in 2007 he started his first collection Prêt-a-Porter. Until 2008, he presented his first collection Haute Couture and Bridal Collection and since then he leads the Greek fashion week for the last decade.
The woman for Vassilis Zoulias should be sophisticated and mysterious. It should attract all eyes in its path.
All her creations are handmade, specially designed for each customer. Having measured thoroughly after two rehearsals, the best seamstresses sew, embroider and prepare each creation from the beginning: each creation is unique, exclusive, "as if it has not been touched by a human hand", notes Celia.
From 2012 onwards she took a huge step forward with her creations being presented on the red carpet around the world: Gwyneth Paltrow, Jennifer Lopez, Lady Gaga, Rita Ora, Katy Perry, Heidi Klum, Kim Kardashian, Camila Cabello, Nicole Scherzinger, Olivia Palermo, Elsa Hosk, Chiara Ferragni, Nadine Leopold, Cindy Bruna, Maria Menounos, Giuliana Rancic, Hailey Baldwin and many more who chose her for their appearances.
Dimitris Dassios : "Art"
Greek fashion designers.
He is one of the most active designers in Greece with a large presence in many important fashion boutiques, galleries and centers of modern art worldwide.
He was born in Athens, where he studied Political Science, before being trained as an actor and classical singer. While establishing a long career at the National Opera, Dimitris Dassios was just as active as designing jewelry at the beginning, accessories and other clothing at a later stage.
His collections are constantly presented at the fashion weeks of New York, Milan and Paris. His inspiration comes from the Greek tradition but is also influenced by cultures of other civilizations. He is the favorite designer of galleries and museums.
His studio is located in Athens and maintains a boutique in Mykonos.
Angelos Bratis:
Greek fashion designers.
High quality loose clothing, airy drapes and much more from a favorite designer who lives and creates in Greece.
Born in Athens in 1978, Angelos Bratis grew up in his mother's studio before enrolling at the Veloudakis Fashion School in Athens. He received his master's degree from the ArtEZ Institute of Arts, formerly known as the Arnhem Fashion Institute, in Amsterdam. His collections are presented on catwalks in Milan, Paris, Amsterdam, Athens, Beijing and New York and have attracted a lot of attention from the international press. He has collaborated with brands such as Yoox.com, L'Oreal Paris, Wella Professionals, Mattel's Barbie, Johnnie Walker Black Label and Harris Tweed, among others.
Orsalia – Parthenis
Greek fashion designers.
The first store of Brand Pathenis was opened by Dimitris Parthenis in 1970 in Athens. In the following years he opened his boutique in Mykonos where it would be the beginning of a brilliant international career. His daughter, Orsalia Parthenis is the continuation of the house of Parthenis whose identity remains timeless with elegant minimal Greek aesthetics. High quality classic fabrics, crossed with modern elements, create garments for a sophisticated everyday look that is always in fashion.
All the house's collections are designed and produced in Greece.
In addition to the Greek market, Parthenis has stores in Cyprus, Lebanon, Kuwait, the USA and the United Kingdom, while in February 2016 the pop-up Parthenis Concept Store on Rivington Street in East London opened.
Mi-Ro: Dimitris Mastrokalos & Giannis Raptis
Greek fashion designers.
The favorite duet of Greece. Two friends who joined their talents in 2003 and created their own brand giving a new sense to the world of fashion in Greece.
Brand Mi-Ro combines the new with the timeless style. Fearless design, dynamic silhouettes, feminine lines, precious materials and detailed tailoring.
MI-RŌ have been invited to present their collections at major international and local fashion events, such as AltaRoma AltaModa Fashion Week, InStyle Athens Fashion Week, Serbia Fashion Week (official guests of MTV Europe), TRANOI Paris, Madwalk, the charity Taste The Fashion fashion event etc.
10+ Greek fashion designers to inspire you with their talent, their creations, their career, their desire to make their dreams come true. Whether you are young / just starting your career in fashion or you just want to create your own clothes to stand out from the crowd, knowledge and study will become your ally to unfold your talent.