It is obvious to women who buy clothes that the size of clothes that best suits them varies from company to company and this happens throughout the clothing industry around the world.
Sometimes they use the same standard sizes but with different measurements to make women feel better, getting into a garment, the same size that another company would not make them. This has been called "Vanity Sizing".
Many fashion companies do not indicate for which measurements their sizes are created, do not share this information for any reason and keep it confidential.
This inconsistency in size, as far as I am concerned, is not such a big problem. The most important issue is the fit. Many women complain, whether the size is 46 or 50, that the clothes do not fit properly. Even if it is theoretically made for a breast 96, it may not flatter the rest of the body at all. It can pull under the chest or have tight armpits. When it comes to fit, a smaller or larger size does not always solve the problem. In many cases it even makes it worse.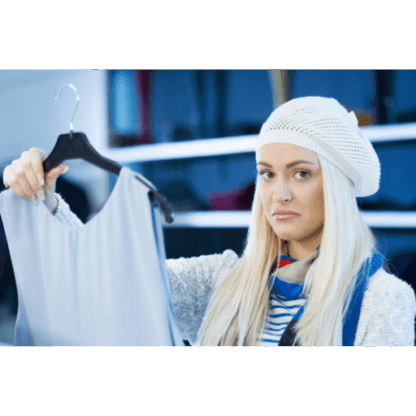 Good fit depends on both the measurements and the shape of the body. Two women may have breasts of 96 cm, but have a completely different body shape.
Why is it so difficult to have a nice fit?
One reason given and generally considered to be the main reason is that it is not easy to gather current anthropometric data. From the beginning of mass production of clothing, the biggest challenge was the necessary measurements of the general population. Carrying out surveys to take measurements was a very expensive and time consuming process.
The anthropometric data we have is outdated because we are growing and the shape of our body is changing since at the same time our eating habits and lifestyle have changed. So a new survey of current anthropometric data is definitely needed for garment manufacturers to create better clothes with a better fit.
Woman hourglass.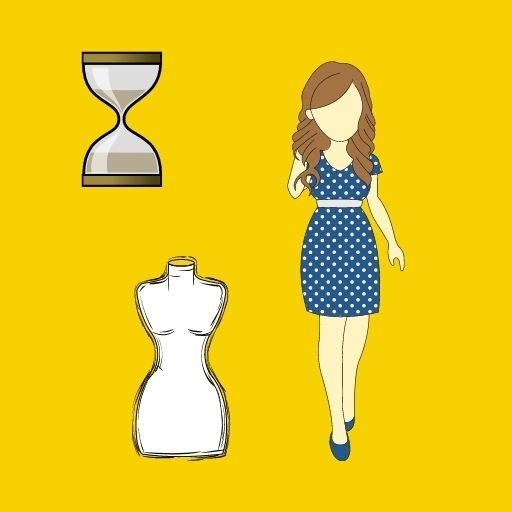 Model woman is the hourglass woman.
Most fashion companies create clothes to fit the model woman better. This is the woman with a slim waist, big breasts and big hips. Generally in a model, which they use as a "fit model", they make sure that their designs fit perfectly in it, ensuring that the person can bend, sit, walk and move comfortably inside the garment. The "fit model" they use is not the smallest size they have but usually their medium sizes.
The way they later create the smaller and larger sizes of this particular pattern is called "grading". It is a process in which the measurements of this body are changed at specific points to prepare their smaller and larger sizes.
I wanted to get to this point, to point out that this blog uses the same creation method ready sewing patterns and to present the table with the measurements used for the specific patterns.
I would also like you to know that the sizes are in 2. That is, in the measurements they go up 3,4,5 cm per number, while normally they should go up 1,5, 2, 3 cm. This was done to fit more easily to more women and to definitely have a size that fits your body.
Table of sizes in centimeters for patterns at sxediomodas.gr
Size
42
44
46
48
50
52
Chest circumference
87,5
92,5
96,5
100,5
104
109
Circumfrerence below the chest
75
79
82
85
88
92
Arm
27,5
28,5
30
31
32
34,5
Waist size
66
71
75
79
82,5
87,5
Hip circumference
93
98
101,5
105,5
109
114
Thigh
53
56
60
64
66
68
Knee
35
36
36,5
37
37,5
38
Neck
35
36
36
36,5
37
38
Back
34
35,5
36
37
38
39,5
Waist height from the
center behind the neck
54
56
56,5
57
58
60
Waist height back
41,5
42
42
42,5
42,5
42,5
Size chart for sxediomodas.gr
We will talk again about the standard sizes per season but also about the body types according to the fashion industry. For now, take a look at the page "how do we measure the body" .